So, you know you have a computer problem that may need repair, and you know you want our experts at Stan's Tech Garage to take a look at it. Now what?
Make an Appointment:
The health and safety of our customers and employees is our primary concern. Due to the COVID-19 Crisis, we are no longer accepting walk-ins and are operating by appointment only. This is to ensure we have ample time to disinfect our office in-between customers.
Click here to schedule an appointment through our online calendar.
If you need assistance scheduling an appointment or have any questions, please feel free to get in touch with us! Give us a call at 323-761-2634 or live chat with us using the icon at the bottom right hand corner of your screen.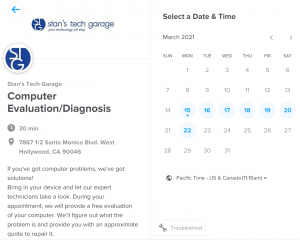 Evaluating and Diagnosing your Computer:
During your appointment, we will provide a free evaluation of your device. We'll figure out what the problem is and provide you with an approximate quote to repair it.
In rare circumstances, we may not be able to provide an accurate diagnosis through the initial evaluation. We may need to check-in the computer for further, in-depth tests. If this is the case, we will charge a $75 diagnostic fee. This fee is nonrefundable, although the $75 will apply as a credit to your final balance of any repairs.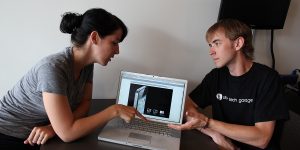 Repair Timeline:
We understand how important your computer is to you and will make every effort to give you the fastest turnaround possible. Under normal circumstances, repairs will take anywhere from 1-3 days. Although, it could take longer depending on what parts your system needs and if there are shipping delays. We will always keep you up to date with any unexpected changes.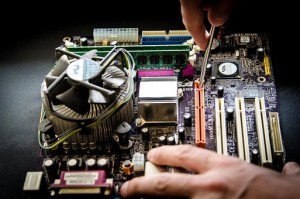 Computer Parts:
As we work with computers of all shapes and sizes, we unfortunately do not keep replacement computer parts in stock or have individual parts for sale. Each computer repair is unique; we diagnose your computer's problem and once you give us the green light to go through with the repair, we immediately order the specific part(s) through our distributor. This is why our repair timeline is typically 1-3 days.
Additionally, you are welcome to provide your own parts. Although please note, we do not provide a warranty if outside parts are used. If the outside parts are wrong, incompatible, or defective, additional costs may be incurred.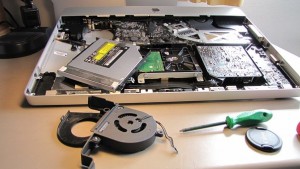 Pricing:
Unfortunately, there is no standard pricing for computer repairs. There are a lot of factors that go into a repair quote, such as the problem at hand, the computer model, and what parts are needed. Our in-person evaluation is crucial in achieving an accurate quote.
Although, in terms of a general price range, most common repairs fall into the $100-$300 range. Your advisor will provide you with all of the relevant details during the evaluation.
Please know that at Stan's Tech Garage, there will never be any hidden costs. We are committed to being 100% upfront with pricing and keeping you informed throughout the repair process. Additionally, we will never advise you to complete a repair that is not financially sensible. If the repair cost for an outdated machine is more than half the cost of a newer, replacement computer, we might advise on a replacement.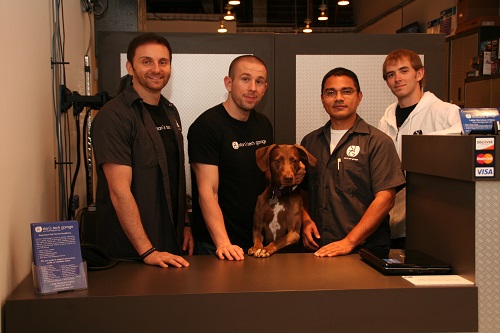 Still have questions? Want to get a more accurate price quote?
There are plenty of ways to get in touch with one of our technicians: 
Give us a call. Call us at 323-761-2634 anytime during business hours. (Monday through Friday, 10am – 6pm; Saturday, 10am – 5pm).

Live Chat: Click the chat icon at the bottom right hand corner of your screen to get connected within minutes.

Email info@stansgarage.com and we will get back to you as soon as possible.